Home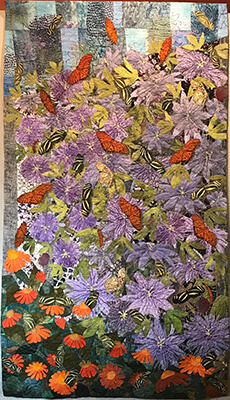 Welcome to my website! Here's your chance to learn a bit about me and my art.
My moniker, RebelQuilter, refers to my willingness to break rules when they get in the way of creative growth. Of late—due to the strange political climate we live in and to ward off the occasional confusion of fans—I've stuck to my "safer" Susan Leslie Lumsden, Textile Artist as my self description.
What sets me apart from everyone else out there? The Curiosity Trail. I was introduced to this by my engineer father who pursued it throughout his life. It provided energy and direction. The eternal artist's questions: What if? How could I? How can I make this relevant? All these give me somewhere outside of myself to venture. To those questions, I've recently added: How can I make this more abstract?
I've sewn most of my life, having been introduced to the sewing machine at five while in the lap of a babysitter. Once I learned to read, patterns and cook books provided my pathway to growth and exploration, while allowing me the independence I craved.
In 1995, after raising our family and selling our marketing business I was finally able to focus and pursue an art career. Shortly thereafter, we moved to the Ozarks, a full two hours away from the nearest serious fabric resource. I decided I'd better learn to dye and print my own fabrics and have done so since 1999.
Never one to follow other people's pathways, I chartered my own path creating art quilts and marketing them via juried art festivals over much of the nation. During a period of about 7 years, I earned three national awards in both fiber and multi-media and many, many regional and state awards. Commissions were sold to both the private sector as well as corporate and public entities.
In 2007 I chose to take a detour from my passion to care for my aging parents. A few pieces of art were created during this time period, but most of my focus was on maintaining a level of comfort for my folks. That chapter is well behind us and we have relocated to central Florida.
In the gap between then and now, my focus has grown from an interest in my environment to a determination to help save it. With very few exceptions I now either dye and print my own fabrics, or upcycle old linens, while avoiding contributing to the large scale waste pollution that fast fashion has created.
The imagery I create are multi-layered, multi-media assemblages with a strong eye toward making others aware of the preciousness of our environment. I have an unstoppable interest in printmaking and enjoy carving our native fauna and flora into linocut blocks and printing them on fabric. I am able to use these images, not only in my bigger art quilts, but also in my practical ware, like linen tea towels, decorative pillow tops, handbags and journals.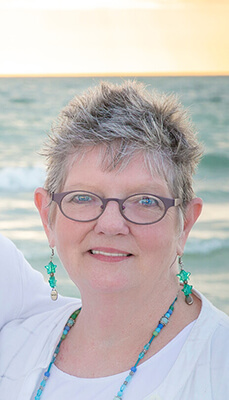 My skills in surface design are widely varied, and I enjoy the breadth of those skills. They include breakdown or deconstructed silk screen printing, thermofax screens, Seminole piecing, free-motion quilting, pattern fabrication, garment design, linocut/ block printing, applique, and working with various wet and dry media to make a mark. As an instructor I am considered an expert in each of these techniques and a skilled instructor. I absolutely love teaching them to others.
Almost all of my work begins with white fabric. I relish in choosing a theme and a color scheme. From that, I place various imagery on my design wall until I generally finalize an overall layout. Then, my joyous process begins: the fabric is dyed, the imagery carved, the silkscreens made and the creation evolves. An overall background is pieced using a combination of many fabrics, to which various textured yarns are couched down. This expands the color range and textures for my palette. My intention is for this background to remain very abstract, hopefully creating an appropriate environment for my appliqued creatures and plants. The use of metallic fabrics harkens back to certainty that my bloodline includes magpie. I love to throw a bit of unexpected sparkle or sheen into the equation.
Please join in my journey as I explore our incredible planet and bring to your attention the incredible wealth of beauty around us.